Alright, so Portishead might not be the best town to practice your scooter and skateboard tricks. We're working on it though, ok?
In the meantime how about making your own skatepark outside your house?
It's easy done. Take Madd Gear's Fifty5 grind rail for £39.95.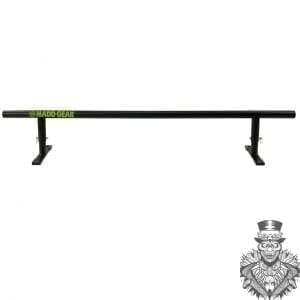 55″ of solid and sturdy rail ideal for practicing your grinds.
Assembly takes a matter of seconds and can be stored in a box a little bigger than a jigsaw's.
Disassembled it can fit under your bed and set up you can use it on your drive. Perfect equipment for home use. Or, how about this: Your mum goes shopping and leaves you in the car. You get the rail out of the boot, set it up before she's even put a pound coin in the trolley and you're grinding in Waitrose carpark.
Don't let the carpark Sheriff catch you mind!
Check out this cat with a similar one: