Dean Lane skatepark is part of Dame Emily Park in Bedminster, Bristol. The skateboarding culture arrived in Britain in the 70's and since then there has always been a popular place to skate in Bristol.
As it's a public park and can be used for free it attracts many skaters and talented graffiti artists who regularly change the artwork on the concrete transitions, boxes and the walls of adjacent buildings.
The changing graffiti has become an identifiable character of the skatepark.
Annual skate events are held at Dean Lane and have been since the 80's. The much anticipated Dean Lane Hardcore Funday is hosted every summer and offers much silly antics and merriment. 2018 saw a tug of war between Bangkok ladyboys and zombies, spoken word by Kim Wrong Un and a fancy dress table top special. Welsh and Cornish locals only and no ginger vegans.
Don't believe me? Just check out the poster.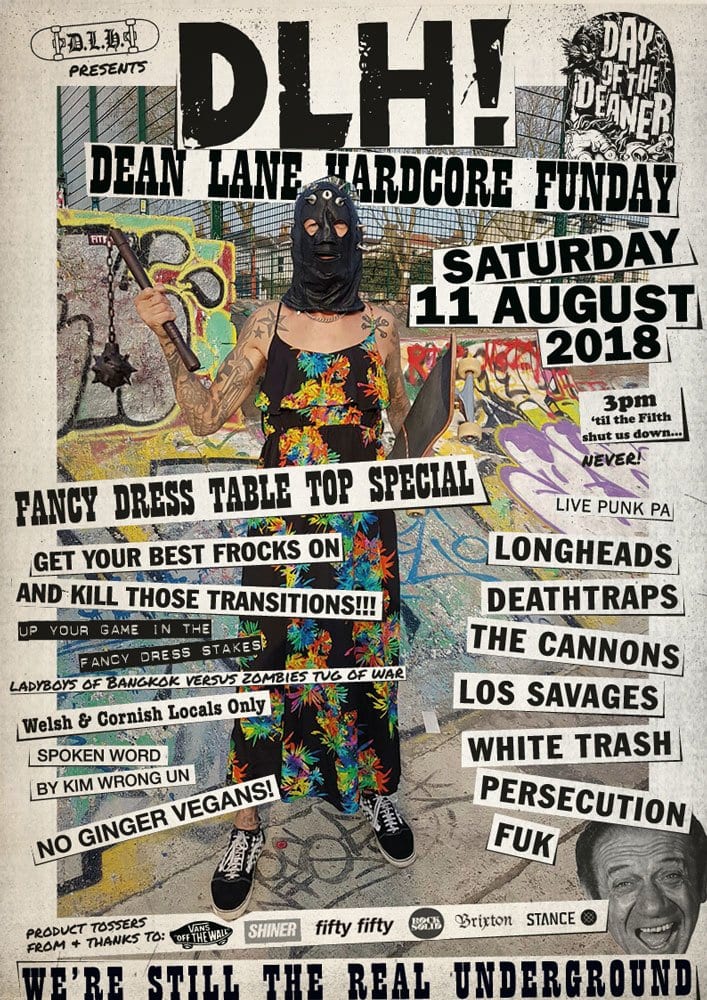 In honour of such a well established skatepark in our community Sk8 or Die is producing a range of Dean Lane T-shirts available through the website and in store at Portishead.
If you're new to skateboarding or the area you need to get yourself to Dean Lane. It's a wide skate apron with a gentle decline to the transitions so you don't have to pump to get your momentum going. There is a 3 sided bowl, vert, boxes and rails – a little something for everyone. Just tell'em you're a bemmie and you'll be alright.