You have to check out this beauty – The MGP VX8 Nitro Extreme. It is the best quality Scooter we've so far had in store. Neochrome finish on the deck, wheels and T- bar. It's bound to make a very happy kid on Christmas morning. Thing is we only have one in stock and our suppliers can't keep up with demand. The neochrome Chilli Reaper Reloaded scooter we had in recently can't be replaced any time soon.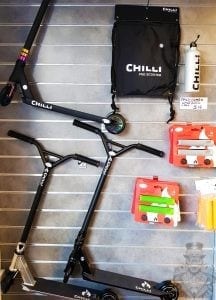 But we do have others at more reasonable price points.
Take the Chilli 5000 scooter, at £99.99 you can get yourself a solid and attractive stunt scooter ideal for those beginners braving their first proper tricks on the ramps.
Also new in and a step up is the Chilli Grim Reaper with neochrome wheels, fork and bolt clamp. A great intermediate scooter and ideal for eventual upgrades when the time comes.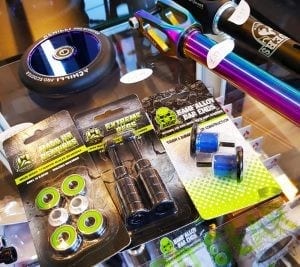 Speaking of upgrades we are always adding to our list of parts available.
We have added MGP pins, abec 11 bearings and bar ends.
If we haven't got the part you need in stock we can get it in within one or two days.